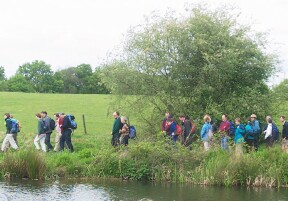 Welcome to the web site of the Surrey Christian Rambling Club.
We are affiliated to the Christian Walking Club .
Group members organise walks mainly on Saturdays in the Surrey area.
For the current programme click the "Programme" button at the top of the page.
The group walks generally on the 2nd Saturday of each month (with occasional exceptions or additions). The walk description usually has enough details to know how far it is, where and when it starts, what the arrangements for lunch are etc. If you don't have a car then we can usually arrange a lift from a nearby station, given suitable notice. In general we don't ask people to advise us in advance that they are coming, unless they are bringing a large group of friends, or there is some other reason why advance discussion is helpful. Most walks tend to have about 10-15 people, mostly from Surrey but some coming from further afield.
Perhaps you'd like to join us?
Membership
We are always happy for people to join a couple of walks to see if our group suits them. The advantage of signing up formally is that one is included on the various email updates that go around, and also receive the password for the contact details on the website. Currently the cost of this is £2 for singles and £3 for couples, which lasts until we need to ask for more (currently estimated at about 5 years, as our overheads are currently low). It is simplest to join up on one of the walks, by giving your details and the subscription to one of the organisers.
Printed Programmes
Anyone requiring a programme to be posted to them must let the club have two SAE's.
Walk details can change so we do recommend using this web site for up to date information where possible.
For more information about the club please contact us.
ďask where the good way is, and walk in it,
and you will find rest for your souls."
Jeremiah 6 verse 16